Condos For Sale in South Florida
We have 3 counties that make up South Florida: Miami-Dade, Broward, and Palm Beach. This guide is one of the most researched and detailed guides to all Condos in South Florida.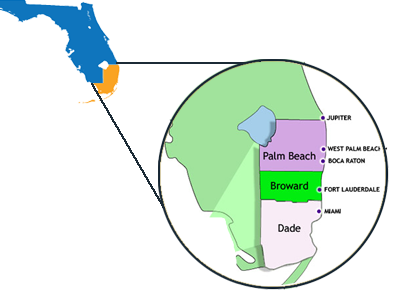 Each one has it's own distinct flavor and if you are new to the area, here is our take on each county and what it has to offer.
Broward County - This is Fort Lauderdale and surrounding cities.

See All Broward Condos

Broward County extends from Hollywood (just a bit north of Miami) all the way to Boca Raton. In fact, Broward is sandwiched in between the two counties, making it easy to enjoy all of what South Florida offers. Of the three counties, we feel Broward is the most relaxed. It's a boating city, with canals that can take you straight to the ocean. There are many wonderful restaurants, incredible shopping, and a true beach vibe. This city is ideal if you are a boater. Weekends on the intracoastal are lively and boaters can easily "boat-hop" from hot spot to hot spot along the way.

Fort Lauderdale Oceanfront Condominiums for Sale

Condominium

Price Range

$1,500,000 – $9,000,000

Coconut Grove Residences

$1,400,000+

Conrad Ft. Lauderdale Beach Residences Condo Hotel

$500,000's – $1,000,000+

L'Ambiance Condo

$950,000+

L'Hermitage Condo

$1,200,000+

Las Olas Beach Club Condo

$1,500,000+

Paramount Residences

$825,000 – $5,000,000

Point of Americas Condo

$850,000+

Ritz-Carlton Ft. Lauderdale Condo Hotel

$1,300,000+

Sapphire Condo

$600,000+

The Palms Condo + Townhomes

$1,200,000+

The Vue Condo

$500,000

Villa Octagon Condo

$2,000,000+

W Ft. Lauderdale Hotel & Residences

$700,000
Fort Lauderdale Intracoastal Condominiums for Sale

Condo

Price Range

$1,600,000+

$1,300,000+

$500,000+

$1,100,000+

$900,000+

$400,000+

$600,000+

$750,000+

$800,000+

$900,000+

Peninsula on the Intracoastal Condo

$400,000+

Pilot House

$450,000+

Portofino Condo

$500,000+

Privage Condo

$2,100,000+

Riverside Grande Condo

$550,000+

Sunrise East

$500,000+

The Pointe

$450,000+

Venetian Las Olas Condo

$550,000+

Fort Lauderdale Condominiums with Boat Docks

Property
Waterfront Location
Las Olas Isles Condos and Townhomes
Canal – no Fixed Bridges
Waterfront Townhomes with Docks
Various
Adagio on the Bay Condo
Bay – no Fixed Bridges
Alhambra Place Condo
Intracoastal
Aquarius 15 Condo
Canal – no Fixed Bridges
Cromwell East Condo
Canal – no Fixed Bridges
Harbourage Place Condo
Intracoastal
Hemingway Landings Condo
Canal – no Fixed Bridges
Intracoastal 31 Townhomes
Intracoastal
Le Club International Condo
Intracoastal
Pilot House Condo
Intracoastal
Porto Venezia Condo
Canal – no Fixed Bridges
Portofino on the Intracoastal
Intracoastal
Portside Yacht Club
Canal – no Fixed Bridges
Rio Nuevo Condo
Canal – no Fixed Bridges
River Reach Condo
Canal – no Fixed Bridges
Sunrise Bay Club
Bay – no Fixed Bridges
The Port Condo
Dry Stack Marina
The Four Seasons
Lake – no Fixed Bridges
Townhouses at Harbor Beach
Canal – Fixed Bridge
Vela Vista Condo
Canal – no Fixed Bridges
Venetian Las Olas Condo
Intracoastal

Miami-Dade County - Miami to the Keys

See All Miami Condos
Miami is a multi-cultural and a visually stunning area. A little more fast paced than Broward, it primarily caters to young professionals, foreign nationals, and the wealthy. The dining, arts and entertainment is a bit more upscale. The beaches are a highlight as is the art deco buildings that have been preserved. Miami is not just South Beach. There is the glamorous Downtown, exclusive Sunny Isles and Fisher Island, and the beautiful Coral Gables. It seems there is always something going on in Miami, a real social mecca.

Palm Beach County - From Boca Raton up through Jupiter

See all Palm Beach Condos
Palm Beach is truly the pearl of South Florida where subdivisions are well manicured, golf courses abound, and old world meets modern day. Many South Floridians are moving north into Palm Beach to enjoy these amenities. The Bear's Club is now one of the most elite golfing communities in the U.S.

We can remember when Delray Beach (part of Northern Palm Beach) was a sleepy seaside city. Today, Delray has been voted "The Most Fun City In America"! You can literally park your car and spend an entire day walking up and down the Avenue. A youthful vibe has entered Palm Beach and it's a good time to purchase in these up and coming cities.