PGA National Palm Beach Gardens $70,000 +

You can search by community here or contact us for available homes

Bill Harper - Julie Love
954-940-1930
www.ilovelauderdale.com

PGA National Resort & Spa offers the complete resort experience. A $65 million revitalization blends a new atmosphere of contemporary luxury with a grand history as one the world's greatest golf resorts. Home to the PGA Tour's Honda Classic and five award-winning golf courses, it also features nine restaurants and lounges, eight pools and racquet club. The Resort's celebrated Spa is a masterpiece of wellness. Offered are 56 treatment rooms, the well-known 'Waters of the World' collection of mineral pools, full-service salon, spa boutique, healthy cuisine and 100 different treatments.

Spread over 2000 acres of the most beautiful tropical South Florida landscape is PGA National Resort and Spa, a non-mandatory country club community. Located in the heart of Palm Beach Gardens, PGA National is the perfect destination for the most discerning golfer. Enter one of the two 24-hour manned gates to find a community filled with five distinct professional golf courses, mature landscaping, colorful plantings, cascading waterfalls, and beautiful waterways. PGA National Resort and Spa is home to over 5,000 homes divided amongst 46 distinct communities.
You can view all homes without registering, but if you would like to save a search or have all new homes that come available sent to you via email, please register here.

See All Available Homes in:

PGA - All Communities

See All Available Homes in a Specific PGA Community: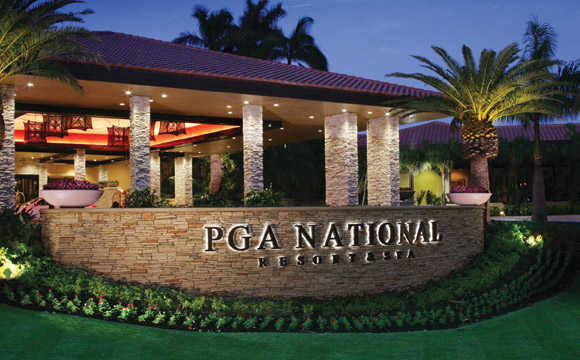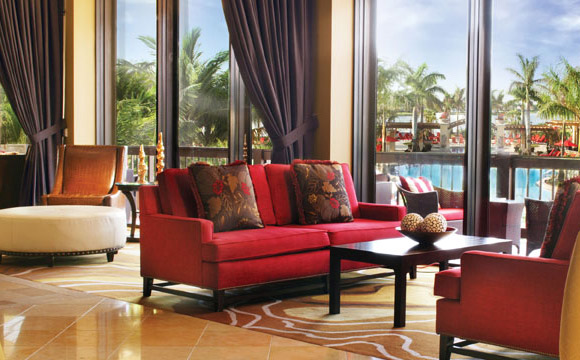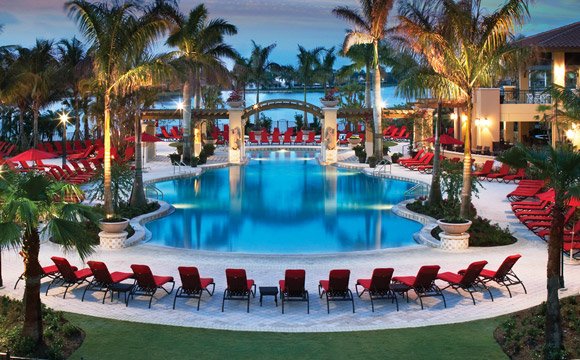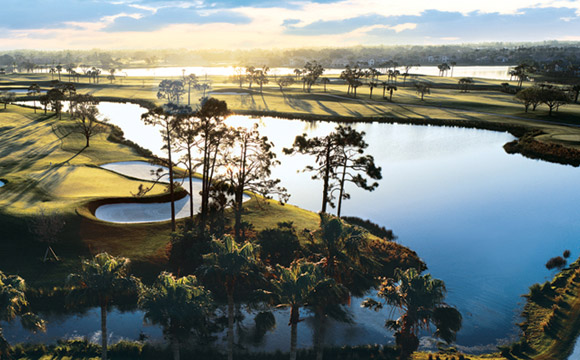 THE CHAMPION GOLF COURSE

Home of the Honda Classic- One of the Best Golf Courses in Florida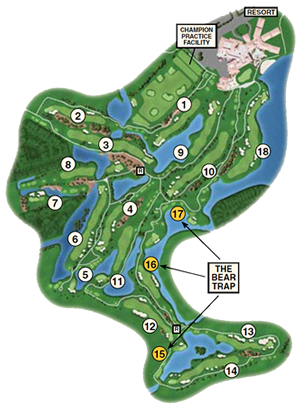 Originally designed by Tom and George Fazio for major tournament play, The Champion course at PGA National Resort & Spa was redesigned by Jack Nicklaus in 2014 and hosts the Honda Classic each spring on the PGA TOUR. Although The Champion has generous landing areas and spacious and accepting TifEagle greens, golfers are presented with course management challenges throughout the round. This South Florida golf resort course has five sets of tees to make the course more playable for golfers of all levels. A must-play on any avid golfer's list, The Champion features the Bear Trap, which spans three demanding holes designed by Jack Nicklaus – listen to the designer describe it in his own words. Considered one of Florida's most notable golf challenges, on what is unquestionably one of the best golf courses in Florida, USA Today calls the Bear Trap "one of the toughest stretches in golf."
Last renovated: Fall 2014 (Celebration Bermuda grass, redesign of the par-4 14th hole leading up to the infamous Bear Trap with the addition of more water and bunkers, and the expansion of No. 1, No. 9, No. 15 and No. 17 to their original size)

THE PALMER COURSE

Named after its designer, Arnold Palmer, this course is one of the more forgiving at PGA National Resort from tee to fairway, known as a risk/reward game.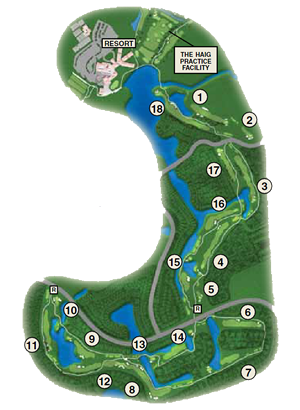 The open fairways and larger "Champion Bermuda" greens can be quite accommodating and invite players to take a chance if they dare – as golfers are not overly penalized for missing the fairway or primary rough on most holes here. There is a considerable amount of undulation through the fairway, presenting the opportunity for uneven lies and creative shot-making. The Palmer has a great series of finishing holes, with the 18th being one of the most scenic par 5s on the property.

THE FAZIO COURSE - Formerly the Haig Course

PGA National Resort is proud to present the new Fazio course. The Fazio is a reinvention of The Haig, PGA National Resort & Spa's original 18-hole course that opened in 1980.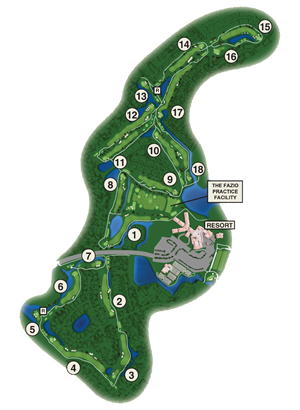 The Haig was designed by George and Tom Fazio in tribute to five-time PGA champion Walter Hagen, and its renovation is being led by third-generation designer Tom Fazio II, who emphasized modernizing the course layout. While the original par-72 routing remains intact, the renovation improves the classic golf architecture with modern advances, including:
• A 70% increase in total green surface to 2.5 acres, grassed with TifEagle on the greens and Celebration Bermuda grass on tees and fairways
• Reconfigured tee boxes and bunkers
• Player-friendly tees allowing the course to be played at 5,100 yards in accordance with the popular "Tee it Forward" initiative sponsored by the PGA and USGA
Fazio II himself believes his renovation "[achieves] that ideal balance where single-digit golfers will be fully challenged while higher handicaps will have a layout ideal for a day of enjoyable resort golf."

THE SQUIRE COURSE

Named after the immortal Gene Sarazen, the first golfer ever to win the professional Grand Slam, "the thinking man's course" is the ultimate test of accuracy and precision.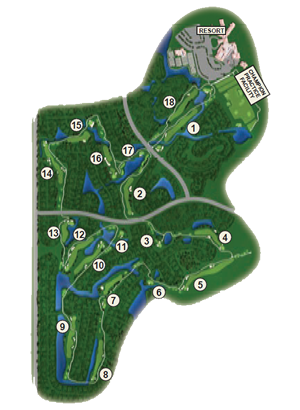 Designed by Tom and George Fazio, The Squire is the shortest and most exacting of the courses at PGA National Resort. Accuracy with fairway woods and long irons is tested on many tees, and the new smaller "Emerald Bermuda" greens demand precise approach shots. Several doglegs provide a risk/reward opportunity for any longer hitter as well. The Squire is surrounded by natural areas teeming with vegetation and wildlife – the 5th hole even runs along part of a wilderness preserve, which borders the west side of the PGA National community.
Last renovated: Fall 2012 (new turf, rebuilt bunkers, expanded tee and green complexes)

THE ESTATES COURSE

Designed by Karl Litten, The Estates course presents an enjoyable mix of challenging and docile holes.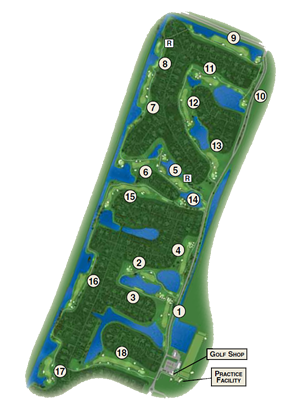 The course sets up for any level of player as it is one of the shorter courses at PGA National Resort & Spa. Where golfers are tested is in the formidable placement of fairway bunkers and water hazards. Generous fairways at this course will often make stray tee shots more manageable, and the large, inviting greens help keep the course fun for the high handicapper. Forced carries to many of the greens over either hazards or bunkers create a test that makes each round more enjoyable than the last. With an open feeling created by the property-wide housing setbacks, the course seems almost like a core golf course. The Estates course is located five miles west of the main resort.

PGA NATIONAL MEMBERS CLUB

There is no better place to play and belong than at the PGA National Members Club. Membership is available in a variety of categories to suite your lifestyle. Members enjoy access to five PGA championship courses, advanced tee times, top notch golf schools, seven exceptional dining options, fitness center, tennis, croquet, a world class spa and incredibly fun events.
Memberships are available for families or individuals who are either resident or non residents within the PGA National community.

INTRODUCING OUR SPORTS AND RACQUET CLUB
SUMMER PREVIEW MEMBERSHIPS*
AVAILABLE AT PGA NATIONAL FROM MAY 1–SEPT 30, 2015

GOLF $1250
SOCIAL $500
TENNIS $750
*Rates do not include tax and other restrictions may apply. Social and Tennis do not include Golf.
Our special Sports & Racquet Preview Membership at The Members Club gives you a taste of everything that's wonderful at PGA National Resort & Spa. Enjoy five months of private club amenities with access to the resort pool and family fun. A 20% member discount will also be extended throughout the resort's seven restaurants, retail outlets and spa.
Fazio, Squire, Palmer Courses:
$45 Cart Fee
Champ Course:
$65 Cart Fee
(Golf is based on availability with two-day advanced tee times)
The all new Sports & Racquet Preview Membership will give you the opportunity to learn about the revitalization and redesign of both the Members Club and Sports & Racquet Club, including a new Kids Sports Complex.

THE SPA AT PGA NATIONAL

The moment you arrive at The Spa at PGA National, slip into your robe and slippers, you will feel yourself relax instantly.

Our four-year, $100-million-dollar, resort-wide renovation rejuvenated the look of The Spa at PGA National, through our possibilities for pure tranquility remain. We are a full-service spa and salon presenting more than 100 ways to indulge. And while you'll find all of the body and beauty treatments you'd expect from a luxury spa, you'll find plenty of surprises here, too – including treatments based on our Waters of the World mineral pools (try the Salies de Bearn with salts imported from the French Pyrenees); therapies rooted in global healing practices; exclusive services bearing names like Phytomer and Dr. Obaji; and experiences inspired by our paradise setting – such as our Sea Water Pearl Ritual.
Before you plan your visit to The Spa at PGA National, consider whether you prefer a solitary or shared experience. Our treatments and packages provide for both, with options designed for individuals, groups, couples and men. All of our guests are privy to our Waters of the World pools and private women's and men's lounge areas featuring steam, sauna and whirlpool amenities.
With extras like spa weekend packages and the Waters of the World Café, it's tempting to plan an extended escape at our Palm Beach spa – a stylish-yet-serene scene that makes PGA National one of the top spa resorts in Florida.


A PALM BEACH TENNIS VACATION
AMONG THE BEST FLORIDA TENNIS RESORTS

Our newly renovated Sports & Racquet Club serves up a memorable tennis vacation. Whether you're interested in addressing a specific aspect of your game or playing on at Palm Beach's premier tennis courts, PGA National Resort's Racquet Club is among the best Florida tennis resorts. With renowned tennis programs – plus all of the Tennis Pro Shop services and amenities you would expect – the PGA National Resort Racquet Club is a championship experience for tennis lovers.

RACQUET CLUB AMENITIES

Our 19 Har-Tru tennis courts include 11 lighted for night play. To hone your skills, try our daily drills, private instruction, video analysis and seasonal programs, available for children and adults. We're a big player in the local Palm Beach community, hosting round robin events, South Florida local leagues and USTA adult and senior teams.
At PGA National Resort, we help tennis players prevent injuries and enhance their game with a tennis-specific program. It begins with a comprehensive screening to evaluate any limitations and restrictions that could hinder tennis performance. Each guest's program looks at stability, mobility, flexibility, balance, strength, posture and power to create a customized plan.
On a tennis vacation, you can easily look as smart as your game. Visit the all-new Tennis Pro Shop for good-looking attire, equipment rentals, racquet stringing and ball machine reservations. Find a wide range of retail options, lounge seating, hospitality stations and children-focused areas.

At a Glance:
• Our Palm Beach Gardens tennis courts include 19 Har-Tru, with 11 lighted courts for night play
• Indoor racquetball and handball court
• A newly renovated Tennis Pro Shop featuring gear and apparel brands: Nike, Polo, Wilson, Bolle, Fila, Oakley, Tail Tech, Under Armor and Calvin Klein
• Professional tennis training including daily drills, private instruction, video analysis (highlighting lessons or match play) and seasonal programs for adults and children. The pros at PGA National Resort's Racquet Club can accommodate daily clinics, individual sessions, junior programs or group lessons, including custom doubles strategy sessions.
• Tennis league play including round robins, Palm Beach tennis leagues and USTA adult and senior teams.