So, let's start with economy options:
The Water Taxi - Where else do you have a WATER TAXI?? Is this Venice or is it Fort Lauderdale!
The Water Taxi ticket allows unlimited rides all day. Hold on to your ticket. It can be used for discounts at many of the stops along the way. You can spend all day partying on the water and seeing the sights. It's all great fun! See all the stops below:
Whistle Stops - Where the Water Taxi picks you up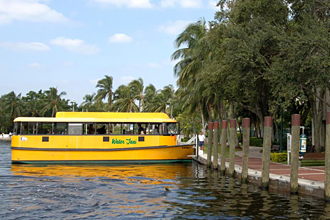 Esplanade Park is close to Himmarshee Street. It's the main water taxi stop. You will want to park in one of the parking garages along Himmarshee and walk. This stop is behind the Broward County Center for Performing Arts. You will see a large gazebo. Just walk around to the back of that and you will see the water. There is a sign posted on the dock.

PLACES TO VISIT ON THIS STOP:
Broward Center For the Performing Arts
Museum of Discovery and Science - IMAX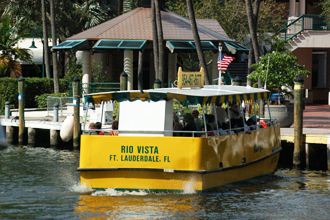 The Las Olas Riverfront stop is one of the best locations to begin your day on The Riverwalk. If you are driving in from surrounding areas, the parking garage adjacent to the stop offers discounted parking for $5.00 all day. Grab a burger and cold beer at Briny Irish Pub; one of the great boat and people watching locations along the Riverwalk.
40 West Las Olas Boulevard
$5.00 ALL DAY PARKING at the Water Taxi Garage! Tickets also available.
Briny Riverfront Pub Las Olas Riverfront
Museum of Art Fort Lauderdale
AutoNation/IMAX Theater
Riverwalk/Esplanade Park
Fort Lauderdale Historical Society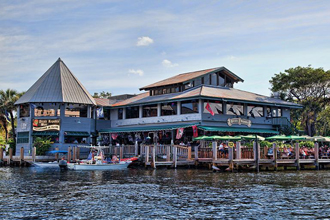 Pirate Republic Bar Seafood & Grill, formally "Shirt Tail Charlie's" has been reinvented and is known for a creative and delicious menu with ample portions. There is plenty of seating to create your own event along the riverside.
400 SW 3rd Avenue
Pirate Republic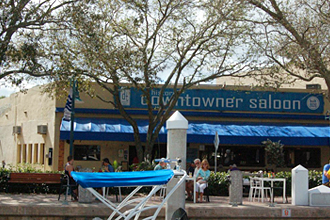 The Downtowner Saloon is one of the oldest Fort Lauderdale restaurants. It's a great place for their famous raw bar, burger or a French dip sandwich. Check their website for evening pub-style entertainment and very economical $14.00 Sunday Brunch. What better way to eat brunch than to pull up on a boat?
408 S. Andrews Avenue
Downtowner Saloon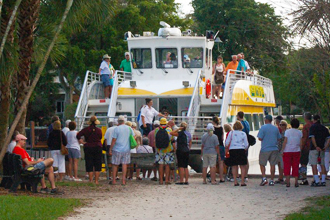 This is one of Water Taxi's busiest stops. It is located only 2 blocks from Las Olas Boulevard; Fort Lauderdale's most enchanting shopping experience. Find shops, nightclubs and fabulous dining. Window shop at lunchtime or have a posh dinner when you arrive at Las Olas by Water Taxi at Stop #3.
904 East Las Olas Boulevard, end of SE 9th Ave
Stranahan House
Indigo Restaurant
Las Olas Wine Cafe
Kilwins of Las Olas
Mango's
Preston's Lobby Lounge
Udder Sweets
Timpano Italian Chophouse
The Golden Lyon
Stranahan House Museum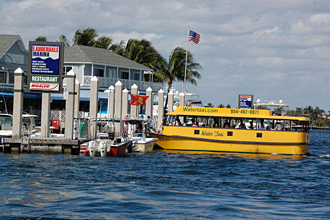 15th Street Fisheries is one of the original waterfront restaurants in Fort Lauderdale. Enjoy fresh seafood outdoors with plenty of outside seating available. More formal seating is available in their dining room. A highlight of eating at the 15th Street fisheries is feeding the wild tarpon (large fish) that hang out in The Intracoastal Waterway along the docks. You can buy fish food for the tarpon and watch them jump out of the water.
1900 SE 15th Street
15th Street Fisheries
HOLLYWOOD CONNECTION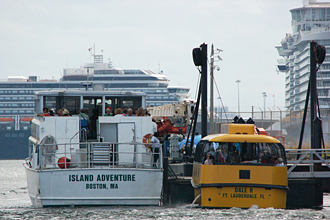 Stop #5/Stop A is located directly underneath the 17th Street Bridge. Stop #5 is the nearest Water Taxi stop from Port Everglades (Cruise Port). City parking is located adjacent to the dock where you can park for a reasonable fee for up to 10 hours. This is one of Water Taxi's most handicap accessible stops.
Important Note: Use Stop #5 to connect to the Hollywood Loop, starting at Stop A.
1881 Southeast 17th Street (under W side of 17th Street bridge)
Bimini Boatyard
Nanking (Hilton Fort Lauderdale Marina)
G Bar (Hilton Fort Lauderdale Marina)
Broward County Convention Center
Port Everglades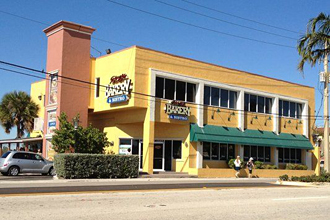 This is the first stop in Hollywood and is closest stop to Johnson Street, where many of the weekly beach activities are located. For those boarding in Hollywood, there are several parking garages located within a few blocks of this stop.
800 North Ocean Drive, Hollywood
Taverna Opa
Ultimate Florida Tours
Hollywood Beach Trikke
Sun & Fun Cycles
B&B Fly Pack Rentals
Oceans Grocers
Billy Stone Crab Restaurant
Taco Beach Shack
Wings
Walk on Water Fitness
Yogurt Ur Way Cafe
Ocean Alley Restaurant
Bahama Joe's Gourmet Market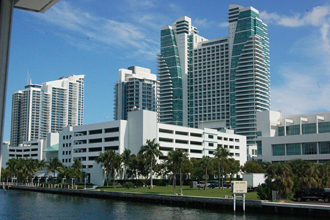 Rivals Sports Bar and Grill is located on the water within the Westin Diplomat complex. This is a great boarding location to take the Water taxi to Fort Lauderdale. Many guests will be able to walk from their hotel or condominium.
3555 South Ocean Drive, Hollywood
Rivals Waterfront Sports Grille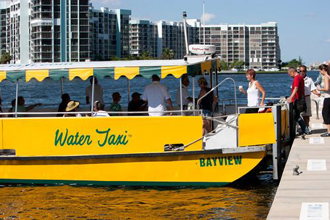 Centrally located, use the Crown Plaza stop to enjoy the Hollywood Broadwalk and beach. Stop D is a great starting point to travel from Hollywood to Fort Lauderdale and back. As you pass through the Crown Plaza, check out The Lava Tiki Bar and Grill or the Elements Bistro.
4000 South Ocean Drive, Hollywood
Elements Bistro
The Lava Tiki Bar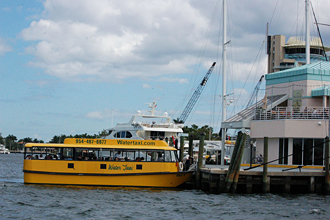 The Hyatt Regency, Pier 66 is an iconic hotel in Fort Lauderdale set on 22 acres. Pelican Landing Pub is located at the end of the dock. Stop #6 features breathtaking sunset views cascading over downtown in the evening. There are five different dining and cocktail venues on the premises.
2301 SE 17th Street
Pelican Landing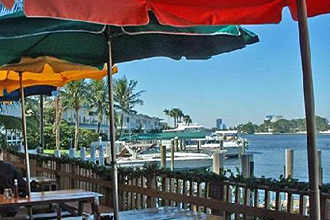 Stop #7 has easy access to famous Fort Lauderdale Beach, located just across the street from the stop. Bahi Cabana is an old-time waterfront venue and an excellent location for watching sport fishing charter boats as they parade in around 4:00pm every day and to watch the sunset over Downtown Fort Lauderdale.
3001 Harbor Drive
Bubba Gump Shrimp Co.
Dos Caminos
Oasis Cafe
International Swimming Hall of Fame
3030 Ocean
Breezes Bar & Grill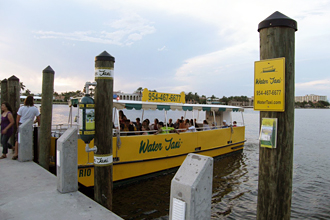 Stop #8 is just a couple of blocks from Beach Place which is a wonderful oceanfront complex with restaurants, shops and even a CVS which stocks beach necessities. For great food, head to Hooters or Lulu's Bait Shop (restaurant). Stop 8 is close to waterfront hotels and condos with many shops along the beach.
Intracoastal end of Cortez Street
Taco Beach
Atlantic Surf Club
Lulu's Bait Shack
Shula's on the Beach
The Deck Restaurant
Beach Place
Fort Lauderdale Beach
Hooters
NORTHERN LOOP CONNECTION

Stop #9 is the transfer location between The Main Water Taxi Loop and the new Northern Loop. Grab a drink at the Gallery One Double Tree Hotel when you get off the boat. The Galleria Mall is located directly next to The Gallery One Double Tree. Hop off at Stop #9 to visit the historic Bonnet House Museum and Gardens a short ½ mile walk over the Sunrise Blvd. Bridge; another fantastic destination for Water Taxi riders.
2670 East Sunrise Boulevard (Galleria Mall)
B'stro on the Beach
Franco & Vinny's
Vue on the Water (Gallery ONE hotel)
Bonnet House
Galleria Mall
Hugh Taylor Birch State Park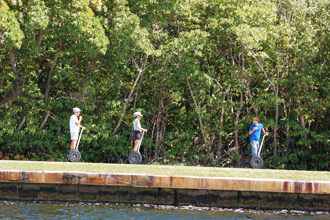 Birch State Park has walking trails, waterfront picnic areas, canoe rentals and guided nature tours. Birch State Park is a great place to bring the whole family for a private picnic event. At this time, the park is a whistle stop. That means let the captain know you would like to be dropped off at the park and you can flag down a Water Taxi later in the day when you're ready to leave.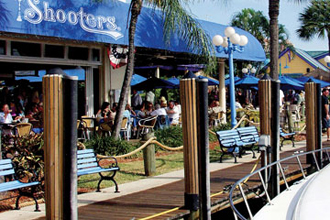 Shooter's is another Old-time Waterfront restaurant in Fort Lauderdale. Today, Shooter's is once again "the" happening place to be in Fort Lauderdale. Last year Shooter's closed for an extended renovation and has recently reopened with great fanfare. Adjacent to Shooter's is Flip Flops Restaurant to the north and the Chart House to the south. Regardless of what you're in the mood for, Stop #10 has it all. The beach is also nearby.
3033 NE 32nd Avenue
Chart House
Shooters Waterfront
Flip Flops Dockside Eatery

Bokamper's is Fort Lauderdale's newest waterfront sports bar and grill. It has been very popular since it opened in 2013. Catch the big game on 70 big screen TVs and let Water Taxi handle the driving.
3115 NE 32nd Avenue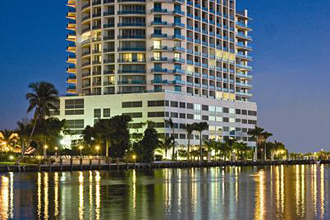 Until recently, il Lugano Hotel was a whistle stop, but with Bokamper's opening up and continued demand, il Lugano Hotel has been made an official stop. This is the end of the Northern Loop and the most northern Water Taxi Stop. A convenient location for residents of Northern Fort Lauderdale and residents of Lauderdale By-the-Sea to board the Water Taxi. Use the Pelican Hopper bus to drop you off close to Stop #12. Check the Pelican Hopper schedule carefully for bus days/times, maps and stops.
3333 NE 32nd Avenue
de Campo Osteria
Fishtales Bar & Grill